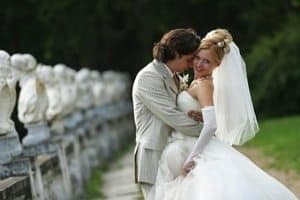 The recent shifts in the economy have hit the wedding segment of the events industry hard. For a while, couples put their weddings on hold entirely. The good news is that people are getting married again, but many couples are scrimping and cutting back on their nuptials.
A new challenge for wedding and event planners worldwide is the attack of the budget bride. They price shop, they "hire" family and friends, they lurk on wedding message boards, and they trade ideas on how to get the best bang for their bridal buck. Some legitimately don't have the cash — they've been seriously affected by the state of the economy. There are also those brides who just don't want to break the bank to get married. The last and oftentimes hardest of these groups to deal with are the few brides who have the money but are looking for a bargain, discount or deal, often at the expense of the vendor's reputation and bottom line.
How do we provide the best service for all of these clients without devaluing our services or sacrificing quality? What if they want haute couture on a rice and beans budget? Some would recommend ignoring them and focusing on other target markets. But what if this demographic IS your target market? Or what if you know that your services are best showcased with this segment of the population? How can we, as planners, help these brides express themselves fully through their weddings and provide them with the best service possible?
If a couple comes to you with a seemingly small budget and HUGE dreams, there are a few steps you can take to ensure everyone leaves the table (and the wedding) satisfied:
Crunch the Numbers
First and foremost, have the budget discussion early in the planning process and often throughout. Encourage the couple to SET a realistic budget — and stick to it as closely as possible. Encourage full disclosure on where the money is coming from and what it may be allocated to. This will avoid future issues if, for example, the bride's parents are contributing and specifically want their contribution to be used on flowers and décor while the bride wants to take that cash and use it on an upgraded honeymoon.
Knowledge is Power
Educate your couples on what things cost. Remember this whole thing is new to them. Unless one of them has been previously wed, they are likely unfamiliar with the costs of the individual elements that go into a wedding. Cost Of Wedding is a great tool to help couples see the average costs of certain vendors and services. As with all tools, average means just that. Certain flowers will cost more during certain times of the year, and some highly desirable vendors will be more expensive, and if the wedding is planned for a high cost of living area, the budget should be adjusted accordingly. Have your clients prioritize their needs. If food is of major importance, focus a larger chunk of the budget on that and scale down other aspects. If décor or music is paramount, be sure they budget accordingly.
Be Honest
If your clients have very high expectations (for example, a lot of custom or couture design or an expensive venue), a large guest list, and a small budget, it's your responsibility as a professional to bring them back down to Earth, as gently as possible. Let them know that every additional person they add increases their expenditures by at least the amount of their per-plate cost. For a prime location, ideal season evening wedding, that can be a cost of $150 per person or more! Putting it in these terms can often help a couple see that something will need to give.
Be Creative
Come up with creative ideas to offset some potential costs.
Discuss floral decor with an experienced florist or floral designer. They will be able to help your client with options that give a similar look for less.
Consider decorating with fabric or candles, if the theme and venue allow.
Discuss menu adjustments with the venue. Maybe the couple could serve one fewer entrée, or remove a course.
Ask if the venue would consider shortening the evening by skipping the cocktail hour or ending the reception an hour earlier.
Cut the open bar to a limited bar, serve only wine and beer, or even consider a dry wedding.
Change the time of the event from an evening to an off time, like a Sunday morning or early afternoon.
What Not to Do
It's a bad idea to cut your fees to suit budgets you can't work within. Working for less is probably not a good thing, especially if the amount of work isn't reduced accordingly. Both you and the couple will likely end up resentful if you're not working up to your own standards. If you feel that the couple truly cannot afford full service, offer to do an a la carte package or month-of coordination.
If you feel that the couple truly cannot afford full service, offer to do an a la carte package or month-of coordination.
Don't make promises you can't keep — evaluate the situation honestly and let the couple know what the bottom line will be if they do not make changes.
Try not to encourage "do-it-yourself" in certain categories in which professionals will surely do a better job. Going DIY can save money in some areas (for example, stationery, like table numbers and escort cards) but can be disastrous in others (trying to cater for a gathering of 150 with no prior experience). Encourage your couples to hire professionals that fit within their budget.
Don't harass other vendors into giving discounts. It's bad etiquette and only serves to ruin relationships. If you have a good relationship with a vendor and a reciprocal discount structure, or just cut each other breaks from time to time, that may be a great benefit to your clients. Negotiation is a skill you should always be utilizing, but never devalue the services of another vendor.
Keep the Big Picture
Artfully planning the budget wedding is a very useful skill to have in your arsenal. Stay in control and remember that we're the professionals. Our job is to guide the clients to the event they're dreaming of, on time and under budget. Even budget brides need professional help, sometimes even more than their more moneyed counterparts. With proper guidance, education and advice, budget weddings can be just as easy and fun to plan.