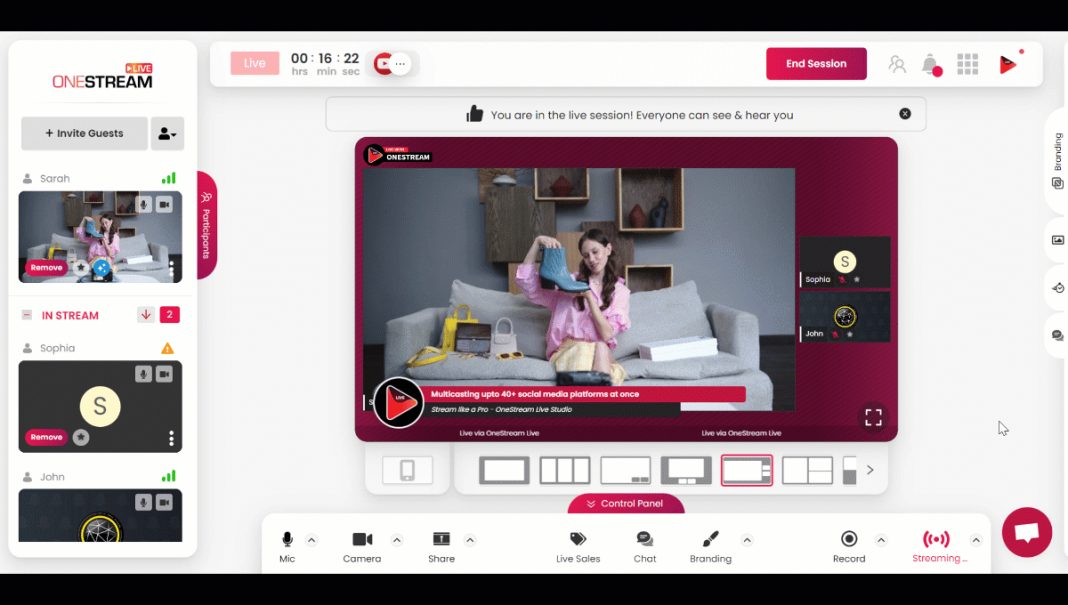 | Updated on
OneStream.Live is a live streaming platform that allows users to broadcast their content to multiple platforms easily. This platform offers a range of features, making it a popular choice for individuals and businesses looking to reach a wider audience.
This is what we use for live streaming at our parent company. We are a OneStream customer, not just writing about it.
Let's review some of the features and benefits of OneStream to help you determine if it is the right streaming platform for your needs.
OneStream Features
OneStream.Live Screenshots
OneStream offers a variety of features that make it an attractive option for live-streaming beginners and veterans alike. These include:
Multi-Platform Streaming: It allows users to stream their content to multiple social media platforms simultaneously from one place, the OneStream Studio. The streaming platforms supported by OneStream as of March 2023 include:

Facebook (Profile, Pages, Groups
YouTube
Twitter
Instagram
LinkedIn
Twitch
TikTok
Custom RTMP
Hopin
Steam
Trovo
Vimeo
Socio
Telegram
PhoneLiveStreaming
DLive
ViewStub
DaCast
Wowza
STAGE TEN
Bambuser
Mobcrush
AfreecaTV
Dailymotion
Picarto
Muvi
Flowplayer
Loots
Kakao TV
Huya
Bilibili
Zhanqi TV
DouYu
Nimo TV
Naver TV
V Live
Mixcloud
Nonolive
OnlyFans
FC2 Live
GoodGame.ru
MLG
IBM
OK.ru
Chew TV
VAPERS
Breakers
Vaughn Live

Prerecorded Streaming: You can use your prerecorded videos to schedule live streams using videos from your computer or cloud storage (Dropbox, Google Drive, OneDrive, pCloud, Zoom & Webex Recordings, Box, Frame.io).
Invite Guests: You can invite and stream with up to 10 guests, while many more can wait backstage.
Custom Branding: The platform allows users to customize their streams with their own branding, including logos, graphics, and watermarks.
Video Editing: OneStream offers editing tools like trimming and cropping videos before streaming.
Audience Engagement: The platform offers a range of features to engage with the audience, such as live chat, polls, Q&A sessions, and live sales.
Streaming Analytics: OneStream provides analytics to help users track their viewership and engagement.
Embedded Player: You can embed a video player anywhere on your website, so your visitors can watch your stream. This is a great option if you use Eventbrite's online attendee page, so only registered attendees can watch your stream.
OneStream.Live Benefits
Several benefits make OneStream one of the most popular streaming platforms:
Cost-Effective: OneStream offers affordable pricing plans, making them accessible to individuals and small businesses. You can start streaming for free!
User-Friendly: The platform is easy to use, with a simple interface that makes it easy to schedule and stream content.
Customization: It offers a range of customization options, allowing users to make their streams unique to their brands.
Reliable: OneStream is known for its reliability, with minimal downtime and high-quality streaming.
Customer Support: It offers excellent customer support, with a helpful and responsive team available to assist with any issues or questions.
Education: OneStream team offers many educational resources, including live-streaming sessions helping users learn how to run successful and profitable streams.
To Sum Up
Overall, OneStream.Live is a great option for individuals and businesses seeking an affordable, user-friendly, and reliable streaming platform to reach bigger audiences.
As of March 2023, it has 4.6 out of 5 stars on G2 with 55 reviews, 4.6 out of 5 stars on Capterra with 49 reviews, and 4.8 out of 5 stars on TrustPilot with 709 reviews.
The best part, OneStream offers a free plan you can get started with to test the platform and see if it fits your needs. If you're a beginner, this is a great option to learn how to stream without spending a dime.
---
Includes affiliate links.