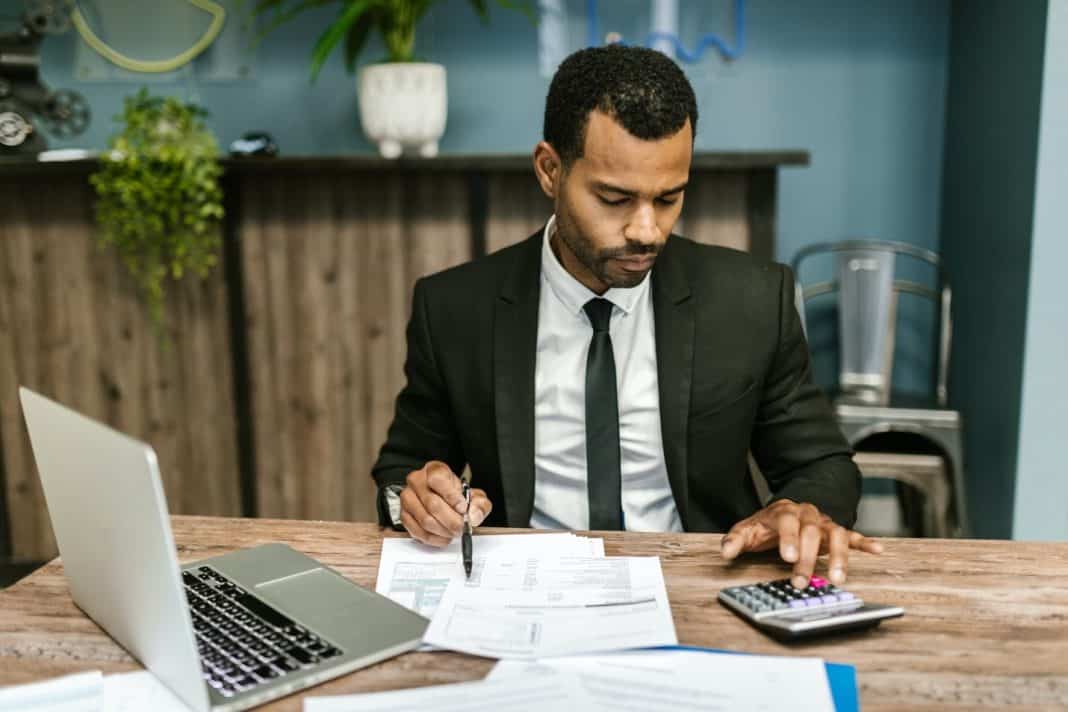 | Updated on
When you run an event planning business, it's critical that you stay on top of your accounting and finances.
Your #1 job is to help clients with their weddings, conference, party, or other events. And to do this, your primary focus needs to be on planning those events – not on whether or not you have enough money in the bank to cover your bills.
The right accounting software is the best way to ensure your finances are in order. At a minimum, this software should help you generate a(n):
Income statement. Also known as a profit & loss (P&L) statement, this shows your income and expenses over a period of time. It's a great way to see where your money is coming from and where you're wasting it.
Balance sheet. Unlike the P&L statement, the balance sheet is a snapshot in time. You can see your assets, liabilities, and equity at any time – what you own and owe. The idea is to ensure your assets equal your liabilities (balance out); this is the key to running a healthy business.
Statement of cash flows. This important but often overlooked statement helps you understand where income is (or will be) coming from and where it is (or will be) going. It's like checking the pulse of your business. The statement of cash flows is primarily used for budgeting and planning.
All accounting software will allow you to generate these three reports. However, not all accounting software is created equal as I've discovered for myself.
I've used several accounting tools, including Wave, Xero, and QuickBooks.
Wave was great when we started the business mainly because it was free! However, we quickly outgrew it as it was just too limiting, especially regarding reports.
Next, we used Xero, which served us well for several years. It was very user-friendly and gave us the additional reporting features we needed at the time.
However, we're now using (and loving) QuickBooks. So, in this post, I'll explain how and why I recommend using QuickBooks for your event planning business.
Event Planner's Toolbox: QuickBooks
QuickBooks has been one of the most popular accounting tools for many years. It's estimated that QuickBooks has an 80% share of the accounting software market.
After using QuickBooks for a while now, I can see why it's the #1 accounting software choice for business owners. The following are 10 reasons I recommend QuickBooks as the software of choice for any small business owner but especially for event planners.
1. Ease of Use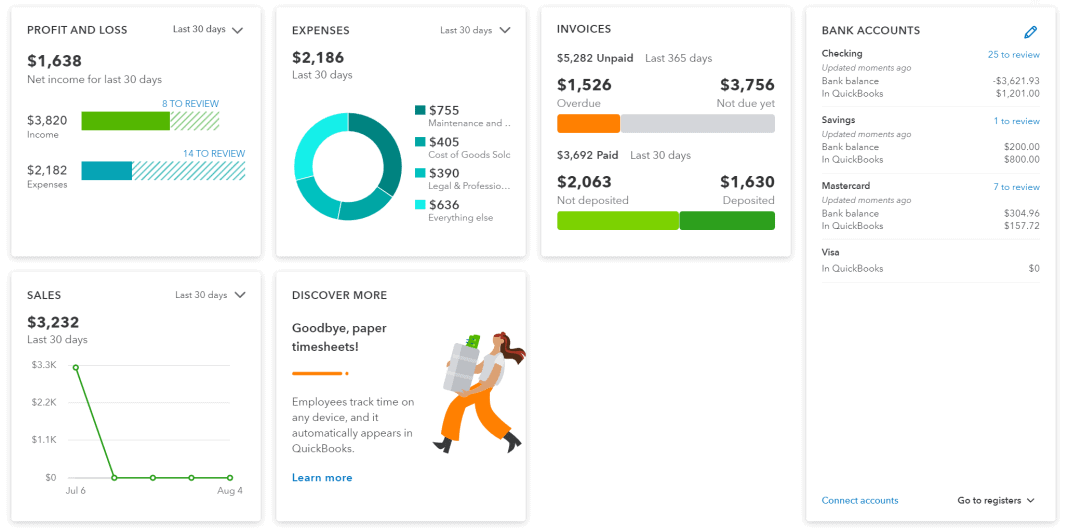 Not going to lie. There's a learning curve with any new software, including QuickBooks. But once you get past this initial (sometimes frustrating!) stage, QuickBooks is extremely intuitive. QuickBooks has a lot of training material to help you learn how to use it.
You'll find everything you need in the Business overview tab of your QuickBooks dashboard, so if you're ever unsure where to find something, this is the place to go.
You'll find your sales, expenses, invoices, bank balances, and what's owed to you – all in one spot. And if you want to create a new transaction (like a new invoice or estimate), you can also do that from the dashboard. Simply click the appropriate button in the top right corner of the screen, and you're good to go.
2. Easy to Send Invoices to Clients
If you've been manually invoicing customers up to this point (or sending PayPal invoices), you'll love QuickBooks invoicing. You can create invoices on the go, including adding a "Pay Now" button so your customers can pay online, meaning you can immediately access those funds.
Every invoice and payment is automatically tracked in QuickBooks, so your balance sheet and income statement are always up to date.
I also love that you can create recurring invoices – so if you have clients who owe the same amount every month (such as retainers), you never have to worry about forgetting to invoice them. Simply create a recurring invoice that will auto-send on the date(s) you specify.
3. Pay Vendors And Suppliers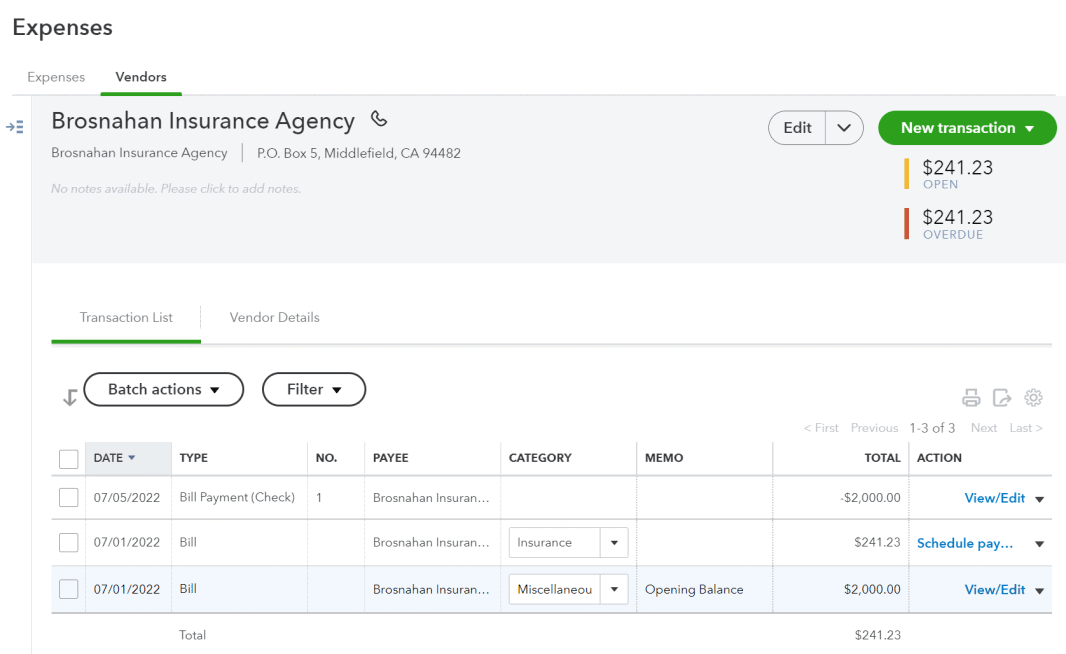 When things get busy, it can be easy to miss bill payments. But with QuickBooks, you can see exactly how much you owe – and when you owe it – from the bills dashboard.
I love that you can schedule bill payments in advance or even defer them if needed.
Or, if you want to pay directly, QuickBooks lets you use bank transfer, debit card, direct deposit, and even paper checks. This means you can pay your caterer, venue, florist, DJ, security, and others on time.
4. Track Expenses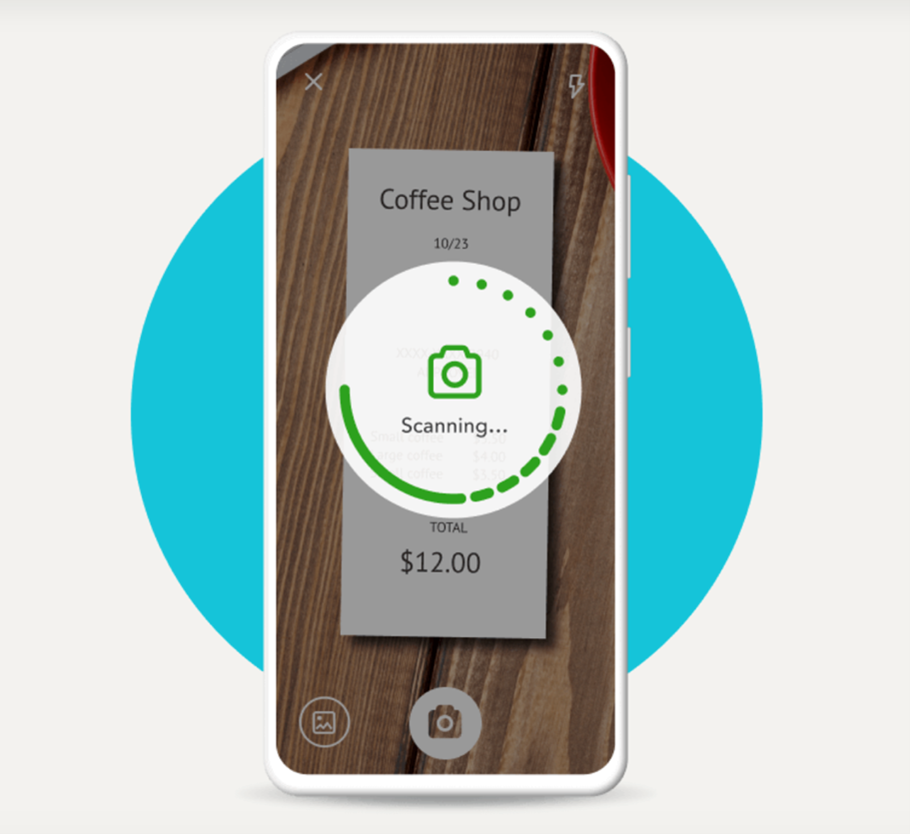 Any accounting software will let you track these, but QuickBooks comes with some related bonus features I couldn't live without.
One of these features is the ability to take a picture of your receipts and upload them via the app. You can even record those costs as billable expenses and then attach the receipts to client invoices.
Another feature I love is that QuickBooks automatically organizes expenses into categories, so you can easily see how much you're spending and on what.
If you're working with an accountant, it is easy to send them receipts to help reconcile your books. Receipts will be available inside QuickBooks so they can review them.
5. Insightful Reporting and Forecasting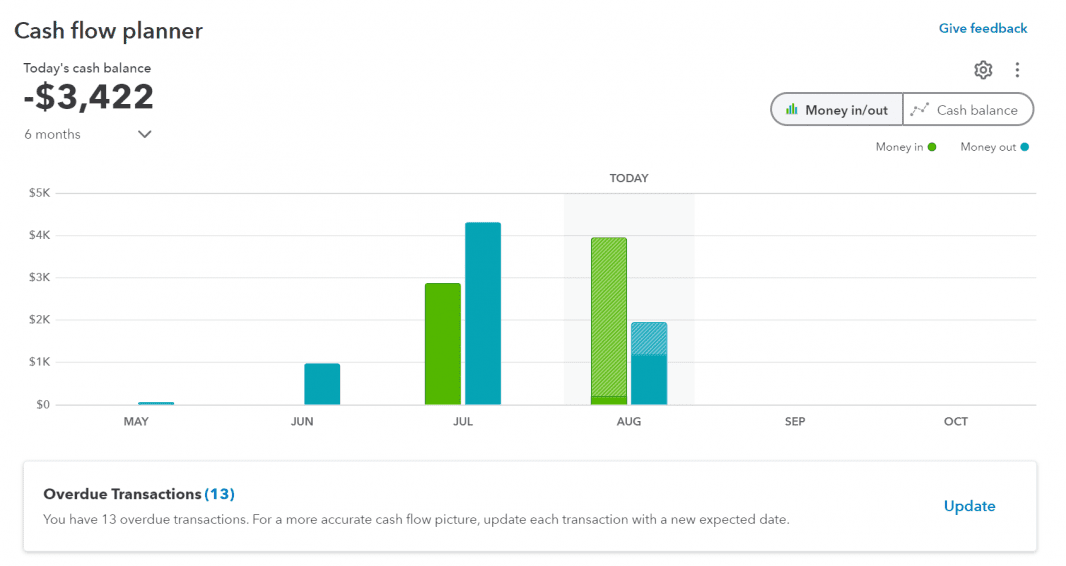 All accounting software offers basic reporting, but I find QuickBooks' reports among the most attractive, customizable, and insightful.
I love that you can tailor your reports based on who needs to see them – for instance, your accountant or financial planner. You can email your reports to key stakeholders (such as business partners), so they're always in the loop!
If you want to customize your reports to suit specific needs, QuickBooks offers the ability to tag transactions as well. These tags don't affect your balances, but they let you sort and track your expenses in whatever makes the most sense.
As an event planner, some helpful tags can be "venues", "entertainment", "catering", "decor", "security", "legal", "insurance", "transportation", and more. You can then run the Profit and Loss by Tag report.
With the Cash Flow Planner, QuickBooks can help you forecast your money in/out and see your cash balance over time. You can add and adjust future events to see how certain changes affect your cash flow without affecting your actual numbers. It's a planning tool to see where your business might be heading in the future and figure out a way to course-correct if necessary.
6. On-the-go Access Via The Mobile App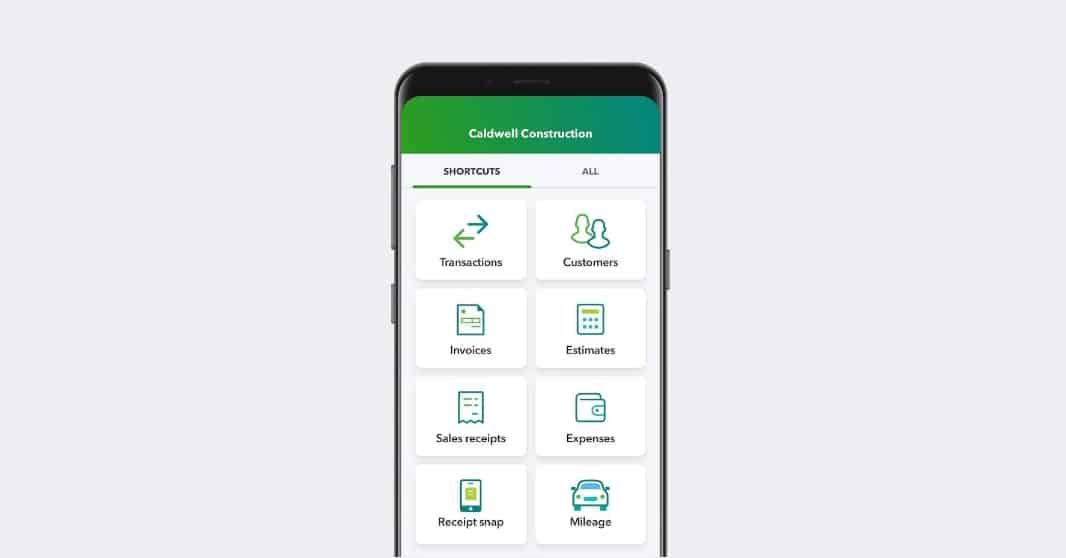 If you're meeting with clients or vendors, you must create estimates and invoices at a moment's notice. This is why I love that QuickBooks has a user-friendly mobile app.
You can do almost everything via the app: recording expenses, sending invoices, and viewing reports. And everything you do in the app automatically syncs across devices, meaning you can enter transactions once and then forget about them.
7. Integrate Eventbrite with QuickBooks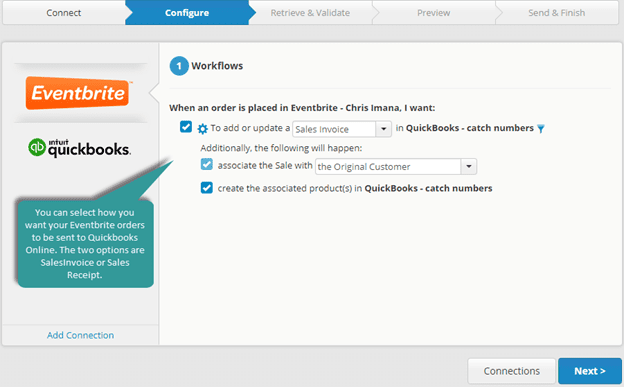 If you use Eventbrite for your events, you'll be happy to know you can sync your Eventbrite sales with QuickBooks. I wish, REALLY WISH, this was available in 2008 when I used Eventbrite for the first time organizing a large convention. It would save me many, many, many hours!
When a customer purchases a ticket to your event through Eventbrite, QuickBooks can automatically add a sales invoice or receipt for a specific customer. Or, if you don't need to track sales on an individual basis, you can simply choose to add a daily summary of sales to QuickBooks.
Either way, all ticket sales are tracked in real-time, meaning your income statement will always be completely up to date.
Are you using Eventbrite and want to maximize its use? Check out one of our most popular posts: 10 Eventbrite Must-Do's for Maximum Success
8. Automate Payroll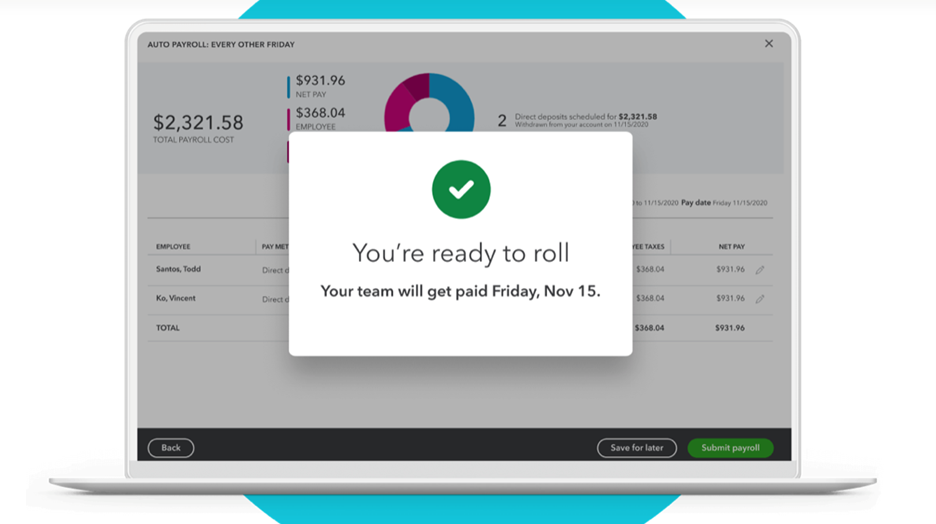 Running payroll is tedious, any way you look at it. But with QuickBooks, paying your employees can be a lot more manageable. You can manage payroll on your computer or using the mobile app. You can set up direct deposits, pay stubs, create reports, and even file necessary payroll taxes.
One of my favorite payroll features is the ability for my employees to clock in and out via the QuickBooks app. Note that this is a different app from the main QuickBooks app. For employees, they'll need to use the QuickBooks Time Tracking app. It also tracks employees' location, so you know exactly where they are.
In addition to employees, you can also track contractors and file necessary tax forms (for example, in the US, you'll file 1099s).
9. Multi-currency Support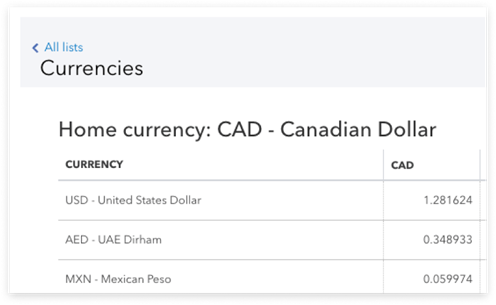 This used to be a "nice to have" feature, but it's a "must have" in today's economy.
Our parent company frequently deals in both Canadian and US dollar currency. This meant figuring out daily exchange rates, manually calculating transaction amounts, and reconciling differences at the end of the month. But with QuickBooks, we simply record currencies as-is, and the software does all the heavy lifting. We can send invoices in different currencies or tailor our reports to reflect multiple currencies.
In addition, we can choose the currency of our credit cards and bank accounts, making it easy to manage and record assets and liabilities without manually calculating them.
10. Projects (Events) Profitability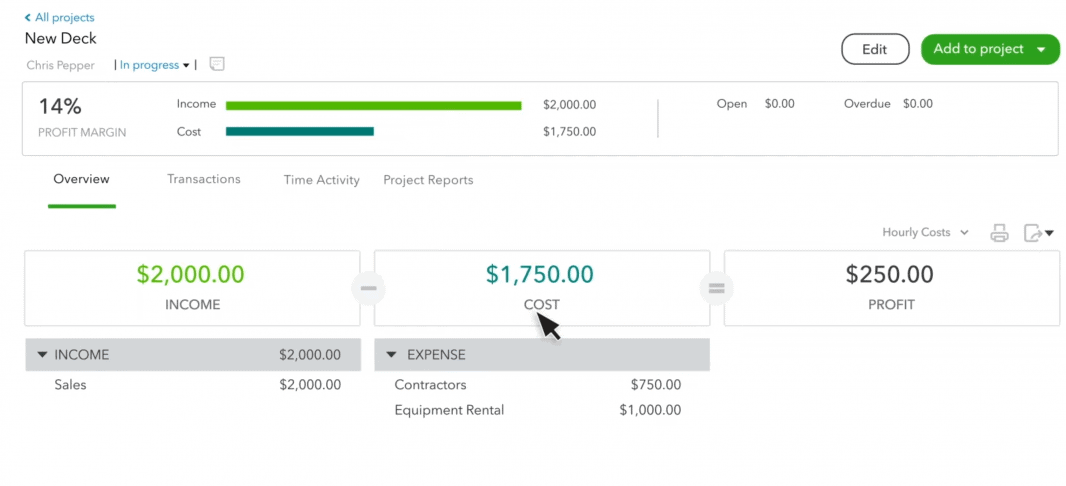 This is one of my favorite features and is especially useful for event planning. QuickBooks allows you to create a separate "project" to track profitability. As an event planner, each project is an event, which means you can track income and expenses for each event separately. This makes it easy to ensure you stay within your budget, keeping clients happy and your profits high.
This feature is also pretty easy to use. Once you've created a new project for your event, you can add invoices, payments, expenses, and even timesheets to the project.
Then all you need to do is pull up that project to see all your balances in a single dashboard. This makes it super easy to stay on top of ongoing expenses for each event you're planning.
Give It a Try
If you're looking for accounting software to manage your event planning business, I highly recommend QuickBooks. Check out their free trial to see if it's right for you. It was the right choice for our business, but only you can tell if it's right for your business.
If you have any questions, feel free to comment. We're here to help!