| Updated on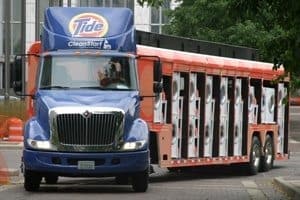 When assessing the marketing needs and objectives of a client for a specific event, a marketing company must oftentimes look at the venue from several different perspectives. This may include having an in-show presence with an elaborate exhibit or even a high-exposure sponsorship through branded premiums or well-placed signage at the show. However, after taking a closer look, many marketers often miss the amazing opportunity to take advantage of the space outside the convention center.
A fair amount of major shows throughout the year continue to grow in popularity. The only down side is that many show decorators are still apprehensive to expand the show floor due to fear that they won't be able to recruit enough exhibitors because of the current economic times. As a result, it has forced potential exhibitors to be put on the dreaded "waiting list." Since exhibitors are left in limbo about whether or not they'll have a space at the show, they're finding other ways to have an impact on attendees.
Mobile tours and pop-up shops are not a new concept. They've been around for quite some time but the choice of where to execute these types of interactive marketing programs continues to shift to the convention scene.
Mobile Tour
The term "mobile tour" can refer to several different types of programs:
1. A quickly-assembled event that can be taken on the road and reconstructed at a new venue. The benefit of this is repeated exposure to target audiences in different markets, and easy setup and breakdown as well as lower costs to conduct the event itself. Examples of these types of events are Pepsi Challenges set up at sporting events or a Red Bull street action teams driving their outlandishly branded cars to college campuses.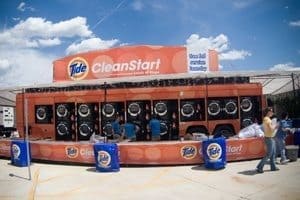 2. Another version of a mobile tour is taking the "full experience on the road." You often see elaborate tractor-trailers that open up to a pre-constructed room inside the trailer and are retrofitted with enough audiovisuals to make even Best Buy jealous. These types of events have been seen with Old Spice as well as Nintendo, which had its mobile unit complete with gaming systems to the ecstatic joy of avid gamers who have a chance to play new releases and tell about their experience via social media kiosks also on site.
No matter the size or scope of the event, both types of mobile tours follow a common thread in that they bring the product to the consumer instead of the other way around. This may also be the business model of many consumer shows but the differentiating factor is that mobile tour events are not constricted to a booth size or location in an exhibit hall. Typically, these types of events are conducted in wide open spaces that are popular areas of interest and produce large amounts of people traffic.
Pop-Ups
Conversely, pop-up shops thrive in an indoor location to host their events. Oftentimes empty storefronts in busy downtown areas or near convention centers are used as "blank canvases" where brands can design and furnish an empty store to their liking. Signage, kiosks, looping videos, brand ambassadors and anything else you can fathom make their way into the pop-up shop so that attendees are immersed in the brand the moment they walk in.
The advantages of executing a pop-up shop are the following:
The shop is all about them: No competition with other signage, exhibitors, products, reps, etc.
Usually a flat rate to rent the space. An added bonus is that space discounts are often given because using the space helps inject money into local business development organizations that are struggling to fill empty commercial spaces.
Dictate hours of operation. Companies can host events all day long and advertise daily schedules through social media outlets.
Perfect venue for hosting nightly/post-show parties, contests, giveaways, media events, etc.
Prime opportunity to partner with a complementary company in order to curb costs as well as double the advertising/marketing resources.
A notable example of a pop-up shop is when the "New Jersey Department of Tourism" opened a pop-up shop in New York City, where they advertised "stay-cations" during the early years of the latest recession. Attendees walked into a summer environment — with sand on the floor, beach gear all around them, brand ambassadors in swimwear and a giant landscape model of the Jersey shore to help recommend tourist spot along the New Jersey coastline. Representatives were also present to interact with attendees and direct them to the looping videos that explained how families could still take a relaxing vacation, but closer to home.
Increasing Numbers
To bring conventions back into the picture, a venue that has seen a dramatic increase in the use of mobile tours or pop-up shops is San Diego Comic Con. During the four days of the show, mobile tours can be seen hovering around the convention center like a giant tailgate party, jockeying for the best spot to be noticed by attendees.
Trucks fitted with media as well as tents, tables, vendors and brand ambassadors make sure to interact with attendees as they go in and out of the convention center. Major shows such as San Diego Comic Con, International Gift Fair, and Magic yield 60,000 to 100,000+ attendees in a 3 or 4 day span, which makes for an ideal stage to expose the public to a new product, service or brand without having to spend the amount of money typically needed to exhibit at the show.
Companies now have the choice to interact with the public inside or out of the convention center. Perhaps saving the money on exhibiting at one show will yield a chance to do mobile tours outside of several shows, which may bring about a better result in the short and long term. Attendees are now realizing that companies are finding ways to interact with them on several different fronts. No longer does walking out of the convention center mean that the marketing ploys are done, but rather, just beginning.