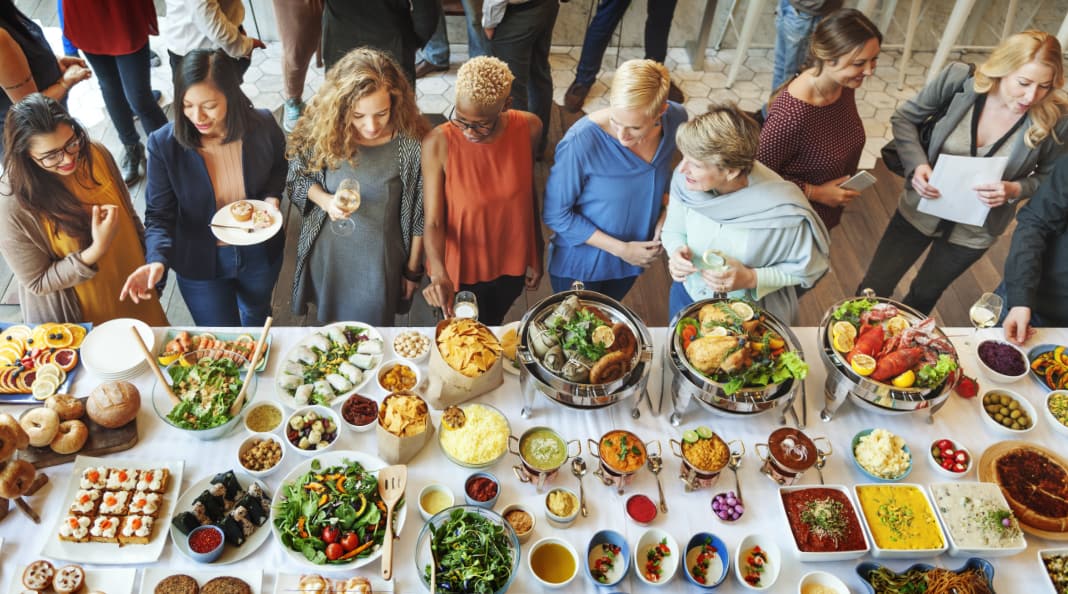 | Updated on
Developing menus for a large, multi-thousand attendee, a three-day conference with an eleven-day set up, as well as preparing, cooking, and presenting food in a manner that is engaging and diverse, is a grand event in itself, and one that needs and deserves just as much planning, if not more, than the event it's being planned for. How do you professionally accomplish this and set a new standard for others to envy? It's all in the details.
Planning & Details
Review the data from prior years to get a feel for what has been done before. With evaluations, client and vendor input, develop goals for the current year. This includes:
Developing menus with a flair for the regional, while appealing to the diversity of attendees.
Focusing on the caterer's strengths — cultivate and showcase their talents wherever possible.
Developing a system to track actual consumption with an efficient means of compiling the data for reporting.
One caterer I worked with was very strong in food artistry and presentation. And though serving a volume of meals for over 5,000 poses significant challenges in terms of appearance and menu options, I provided the culinary team with a wish list and a range of ideas for the presentation, which in turn provided a basis for inspiration.
Create Diverse Menus
In considering the diversity of attendee palettes, request menus that offer a balance of local and regional specialties alongside familiar mainstays. For example, for a convention held in the Midwest, we showcased local specialties such as Pork Paprikash and Spaetzle alongside Mushroom Risotto and slowly-roasted Prime Rib of Beef. Attendees could sample these specialties or choose from salad and vegetable items. As a finale, we showcased the pasty talents with a mixture of bite-sized assorted desserts.
For all-day grab-and-go items, I've found a packaged protein (almonds, yogurt balls, trail mix) and whole fruit to be proven staples, and I tend to focus on a few items rather than many. For morning breaks, try to refresh morning tea breads and pastries, and do try to have the food in bite-sized portions. Mini yogurts with assorted toppings (berries and granola) and homemade biscotti or assorted packaged granola bars, single strawberries, and smoothies all work well in the morning. For PM breaks, I've offered power protein punches, chocolate drizzled snack mix or grab-and-go protein snacks.
For all-day beverages, water stations — bubblers with freshly cut citrus — iced tea and hot beverage stations are standard. For canned assorted soda, do include flavored seltzer waters such as lemon-lime and cranberry as an alternative.
For evening events, focus on artistry and presentation and feature upscale appetizers and desserts presented with a simple modern style. I prefer clean, streamlined, simple presentations (no bunched/scrunched fabric) with white service ware of large round or square platters. Black sculptware topped with a folded black linen works best because you simply need to refresh the top linen once a day, saving time and money on labor and linen rentals.
Clarify Logistics
Assess your equipment needs and work with your caterer to understand how each buffet will look. Ask your caterer to show you illustrations for each buffet example. While most convention catering outfits can service 10,000 with china, the length of the program and the multiple service areas for simultaneous programs will more than likely result in hard purchase needs, from chafers to service ware, platters, and display items to bins for holding them.
One key piece of equipment I've found helpful are beverage coolers, the ones you see in quick service outlets with either sliding or pullout doors. These can be easily wrapped with custom branding and with high visibility they are well suited for sponsorship. They typically pay for themselves when you consider labor/staffing and linen costs for a beverage station with bins and ice, not to mention the environmental factor.
Preparing for a large food order can be daunting and if you don't have prior year's consumptions, sort through the details carefully and know what is being ordered. For one show, we had 60 pallets of food on a receiving dock with 117 Barons of Roast Beef, 2/3 tons of Cod, 1.6 ton of Fresh Chicken Breast, 200 lbs. of mixed lettuces, and 36,000 bottles of beer waiting just for an opening reception. When you factor in three days' worth of food plus set up and strike days, you may be surprised with the amount of loading/holding space required.
Efficient Execution
On peak days you should look for on-site catering staffing to exceed 550 for shows with more than 5,000. How do you schedule them? In teams.
Allocate dedicated teams and captains to specified functions. For example, dedicate one team exclusively to breakfast service, another to lunch, a third to evening functions. Additionally, divide morning and afternoon break teams among beverages and food replenishment. And dedicate senior staff to ancillary food service programs, such as executive, crew and speaker rooms as well as various lounges, breaking the shifts into morning and afternoon/evening teams.
In this way, each team will not only focus on one primary area, but they will also take ownership of it.
As for the back of the house staffing, for one convention, kitchen and scullery staff worked around the clock for four days straight with lingering work spilling into the ensuing two weeks. On the pastry side, hundreds of cakes and assorted desserts were baked starting three weeks prior. Make sure to have contingency plans in place for any last-minute changes, including room set up and attendance spikes. Elevated attendance to just one evening event could have significant and potential negative impacts.
Anticipated Outcome
Combining a strong partnership, collaboration, effective communication, flexibility, and precision in both catering and event management is necessary for executing a program that sets new standards. And doing so raises the bar — and leaves a lasting impression: your signature — on serving the masses in style.