| Updated on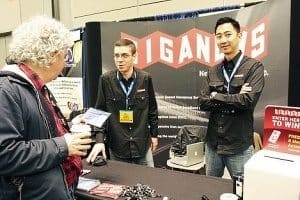 Hello class. Today's lesson will focus on the various things you can do to update your image and to get attention from attendees at the shows you exhibit in to make new contacts (leads) and meet other show objectives. In particular, we will be focusing on display types today.
This lesson will serve as a handy reference guide for all companies searching for a display, but it should prove especially useful for those of you whose trade show planning includes updating your company's image with a new booth. Reference these descriptions to help decide on a direction to take that best meets your needs. Keep in mind, there are also many other types of displays and new styles added all the time, but the following ones tend to remain the most popular styles. And by the way, this list purposely does not include brand names, so check with your vendors about the various brands.
Pop-Up Displays
Pop-up displays are made of an expandable frame to create a back wall for your booth. The image area is one solid piece, typically printed on fabric. To complete the look, side fabric panels are a suggested extra, covering the framing that may otherwise be visible from the sides. The additional cost is usually minor and well worth it.
Panel Displays
Like the name suggests, panel displays consist of thin and flat panels, available in a wide range of models and styles. The panels are either connected at the show or simply unfold, depending on the style selected.
Table-Top Show Displays
Table-top display options have come a long way over the years and now offer some very interesting options. Most of the portable display options covered in the list will have miniature counterparts for table-top exhibiting.
Fabric/Tension Displays
Fabric/tension displays are a little like a pop-up display on steroids. Most have a seamless graphic back wall that support a variety of shapes otherwise not possible. Some brands even use fabric squares, diamonds, etc. to create the display, giving you a unique look. You can further customize your look and differentiate your appearance with add-on pieces, such as monitor mounts, shelving, curved add-on "stand off's" and more.
Custom-Designed and Built
These displays are made specific to your needs—basically anything that is physically possible can be done. For these booths I suggest turning to a highly-skilled vendor who has been in the business for many years, or go straight to a custom-display company that works with these displays on a daily basis.
Modular Displays
Modular displays are designed to be assembled in different configurations, which make them ideal for exhibitors with frequently varying booth sizes. They are composed of various modules such as frames or panels that can be interconnected to create the display in many different combinations. With the large variety of options available ask your vendor for suggestions, or start with an idea you have that they can expand upon.
Truss Displays
Truss components are usually round, box shaped, triangular, or flat pieces designed for an easy assembly process. They are typically made of durable steel and have the ability to easily support heavy items such as monitors or lights and collateral.
Kiosks
Kiosks are ideal for demonstrations. You can mount a flat panel monitor for showing presentations or to showcase computer software. They also have counter surfaces, so you have space for notes, collecting leads or for a mouse and keyboard.
Budget Displays:
For those of you who are on a very tight budget, the following type of displays might be good options to consider:
Pipe and Drape Sets
Like anything else, pipe and drape systems come in various styles and sizes, from plain to printed. They are easily transportable and fold into a suitcase or even a briefcase. Draping sets typically attach directly over the existing pipe.
Banner Stands
Banner stands come in different sizes and can be the poor man's version of a pop-up background since they can hold a large, seamless graphic.
There are, of course, also accessories, which are the finishing touches supporting the activities and promotions in your booth. But you'll have to wait for that "topic" to be covered in a future lesson. It's time to move onto homework now!
Homework
Unfortunately I can't really check your homework, even though I wish I could to give additional pointers and assistance. However, I will point out that taking the time to complete your homework assignment will give you better results before searching and calling vendors about display types.
First, create a list of your display selection guidelines, such as the size booths you plan to exhibit in, whether you should you buy a new display or just update and expand upon your current display, your exhibiting objectives, the "vision" for the booth and whatever else fits into your display selection criteria.
Next, make a list of all the current display components your company owns. Make note whether these items are still in usable condition and have current branding and messaging.
Lastly, before contacting display vendors create a realistic budget to guide you that has either been approved or you know would be approved.
Having these details will save you and the vendor from wasting time.
Photo by Chvad SB