| Updated on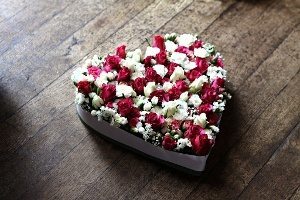 Weddings are not cheap. The the average cost of weddings in the U.S. ranges from $20,000 to $40,000 (depending on where you live), so wedding planners need to find ways to cut costs and while put on a great event for the client.
One area of cost cutting can be wedding flowers. Costs for flowers can range from $800–$1,900, excluding centerpieces and elaborate bouquets. As a wedding planner, you know that flowers lend an air of romance to a wedding. So while you want to save, you still want the wedding to look beautiful and memorable.
Here are 11 ways that a resourceful wedding planner can save on flowers, yet still create an exquisite visual impact for a client's dream wedding:
1. Canvass
As an event planner, you already have a list of suppliers you deal with. But it always helps to shop around for new suppliers and keep updated on what's out there. Compare quotes and packages, and feel free to tell other florists if you've been given a lower offer. They may try to meet your lowest price, and even add some freebies or upgrades to land your account.
2. Choose locally grown, seasonal flowers
These are less expensive, and you can save hundreds of dollars by opting for this rather than getting imported flowers. Do online research to learn what flowers are in season in your area.
3. Consider ordering wholesale
You can save hundreds this way. Go online and do some research for a good local wholesaler of flowers. Read online reviews. Be sure to order weeks in advance if you plan on purchasing from a wholesaler. Some options with good prices are Whole Blossoms and 2G Roses.
Bear in mind that, if you go wholesale, you must have a plan on how the flowers will be prepped, kept alive in time for the wedding, cleaned and trimmed, which brings us to the next tip.
4. Don't  DIY
This may seem contradictory since it was said earlier that you could consider purchasing flowers wholesale. The reason you shouldn't DIY flowers is that they can only be done on the nth hour. However, you can get around this by finding a good flower arranger.
5. Consider mixing your decoration options
You can have a beautiful and expensive bouquet and lovely floral aisle decorations this way as well. For table centerpieces, these days anything goes. Some options include containers of water with floating candles, rocks with branches, or lovely decorative vases with fruit. With some creativity, the effect can be beautiful.
6. Silk flowers, when well made, are charming
Plus, you can be sure of what you are getting. Ideally, choose a florist who is familiar with both fresh and silk floral designs. Ask the florist to make recommendations based on your budget. A good florist should be able to make silk flowers look realistic and fresh.
7. Try flowering plants as table centerpieces
Choose plants in pretty pots. Many times they are larger in size than an arranged centerpiece but they cost the same price.
8. Choose a nature venue
Botanical parks, town squares and gardens are lovely options, and they can reduce what you would otherwise spend on flowers.
9. Keep holidays in mind
On some holidays, like immediately after Easter or during the Christmas season, the church is already decorated and you may not need to spend very much on flowers. However, if it's scheduled on or around Valentine's Day, the cost of flowers is at its highest.
10. You can save money on altar arrangements
These will only be seen from afar, so it's alright to use filling flowers like gladiolus, snowball mums, carnations and daisies.
11. Check the venue to see if another bride has booked for the same day
If that's the case, perhaps you can coordinate with the flower arrangements and split the bill. This is a great way to save a lot of money on flowers.
Photo by Rob Wright