| Updated on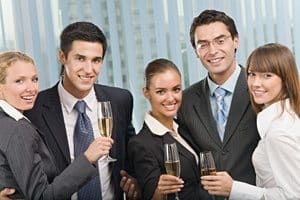 Putting together a successful corporate event isn't easy, but with careful planning and attention to detail it can be done. Here are 15 things you can do to ensure a successful corporate event:
1.  Planning. Better safe than sorry, they say, and having a good lead time is always the safest way to start. Bring your team together and decide as a group what the purpose of your event is. Based on your purpose, you can determine the kind of look and feel you want for the event and the necessary logistics.
2.  Checklist. A detailed list should be drawn so that you'll know exactly what needs to be accomplished at specific points in time prior, during, and after the event.
3.  Meet & Delegate. Assign specific tasks to your people and meet with your team regularly so that everyone is on the same page. Everyone should know what has been accomplished at specific points in time, what needs to be done next, and what should be achieved at the end of the event.
4.  Budget. Your client has probably given you a budget. Make sure that the budget is very specific in terms of expenses (food, supplies, venue, equipment, entertainment, permits, speakers, insurance, printing, etc.) and revenue opportunities (ticket sales, donations, sponsorship, etc.).
5.  Record Everything. This doesn't just mean expenses, but every activity and accomplishment at each point in time. This way you can monitor your progress at each stage of planning and preparation up to the event.
6.  Scheduling. When setting the date for the corporate event, check the calendar to see if other events are also slated for the same day and within the same area that may compete with yours. Consider the weather and keep abreast of weather reports.
7.  Venue. Choose a venue that suits your theme, will accommodate all your guests, and is in a good location. Inquire about ramps, a stage, podium, furnishings, special equipment, bathroom facilities, parking and delivery areas for equipment and the caterer. Have a detailed list of requirements for the venue manager and you to agree on. If anything goes wrong you can refer to the list and ask about lowering the bill.
8.  Guest List. Choose whom to invite. Will the budget only accommodate clients and associates who bring you business? Can you add people who can potentially give your client new business?
9.  Invitations. Send out your invitations five weeks before the date of the corporate event so that people can fit it in their calendars. Include an RSVP.
10.  Publicity & Marketing. Some corporate events require publicity and marketing in the media and online. Others are by invitation only, but may want to have an announcement of the event.
11.  Menu. Corporate events often are opportunities for networking, so the menu should augment this. Finger food is good for networking because they are already in bite-sized pieces. However, if the event is a sit-down dinner you may want to have plated meals, which is less costly than a buffet.
12.  Entertainment. Entertainment adds to the success of a corporate event, but you have to determine if the budget can accommodate it and if it's worth having it with the budget you are given. Also, if a host is required for the event be sure to determine in advance who will fill the job. The host could be you as the head of the event organization, or someone from the client corporation.
13.  Pre-Event Briefing. Some 36 hours before the event, meet with your team to have a review and run-down of what is expected to happen during the event and what everyone in the team is tasked to do.
14.  Going Home Bags. In some events, going-home bags of corporate products may be given to the guests. Be sure that they are attractively packaged and that the items are attractive.
15.  Evaluate. Some corporate events use an evaluation form to collect feedback. For other events, it's more appropriate to discreetly ask for verbal feedback. Either way, it's important to evaluate your event, its strengths and weakness, as input for future events.
Photo by g_studio | iStockPhoto.com