| Updated on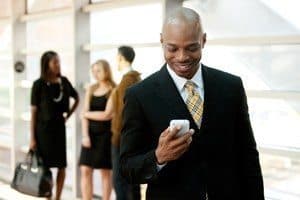 Many event organizers are already considering how to use mobile devices to engage with delegates and enhance their experience of an event. Several have already taken advantage of the market penetration of devices like Apple's iPhone and iPad and Google's Android by commissioning the development of dedicated apps for their events. Often these are simply seen as an environmentally friendly way to deliver delegate pack information and a great marketing tool. After all, if you're in your delegates' pockets, you really can't get any closer!
However, for mobile to be a cost effective, sustainable and truly interactive element of the event experience, you need to consider exactly what you're hoping to achieve and what future costs could be further down the line. It may be tempting to just build an app, but is an app really what you need?
In this article, we compare mobile apps and mobile websites and consider the pros and cons of each approach for event producers.
Mobile Apps
By far the most familiar way for people to engage with content on their smartphones is through an app. There are currently over 300,000 apps in Apple's App Store alone. As an event producer, you can take advantage of this by building a self-contained, native app that delivers content related to your specific event and provides features to help delegates network while they are there. This might include an interactive map of your venue, sponsor materials, electronic business card exchange and social networking functionality. For an event with digitally-engaged audience, this can sound like an ideal tool to enhance the experience of your delegates. So what are the pros and cons?
Pros:
You can make direct use of device features such as GPS, camera, accelerometer, and gestures. Delegates could take a picture of a stand within the app and store it for future reference, or "check in" at a particular session within your app, all using the native features of their phone.
You can capitalize on distribution platforms like Apple's App Store or the Android Market. Delegates will be able to find your app in the main portal that they use for downloading all of their apps, and will be alerted to any updates automatically.
You can be confident that your app will look good, as you can test it on the device and see it exactly as your delegates will see it.
You can take advantage of the hype associated with the current "there's an app for that" culture. Your event will be associated with doing something cool and leading edge, while at the same time providing a useful service to your delegates.
Cons:
It's not all just about iPhones. There are other smartphones out there, including Google's Android, Blackberry, Palm, and Symbian devices. You'll need to build a different app for each of the main platforms if you want to reach a diverse audience. There are tools, such as PhoneGap, that allow your developer to build one app that is then converted to suit each of the different smartphone operating systems, but you may not be able to use all of the native features of all of the devices, so you'll probably be restricted by the lowest common denominator unless you can afford to build separate apps for each platform.
Your app will only be accessible to those with the devices you have chosen to support. Depending on your audience demographic, this may exclude a number of your delegates.
It's difficult to collect information about how people are actually using the app once they have installed it. You need to bear this in mind when writing your specification if you want to collect useful feedback about how the app is being used by your delegates in practice.
Mobile Websites
In all the hype about mobile apps, it's easy to forget about the power of the web to deliver content directly to a huge range of different devices, operating systems and browsers in the consistent way that we all now take for granted. Many of the hits to your existing event website may already be coming from mobile devices, and delegates are far more likely to search for information about your event through their smartphone's Internet browser as their first port of call, rather than looking to their app store.
So, should you consider scrapping the expensive app development program and focus on making your website mobile friendly? Here are the pros and cons:
Pros:
A mobile website is accessible to anyone with a web-enabled device without the need for developing and promoting separate apps for each of the main platforms. This effectively widens your audience and prevents your mobile project from becoming fragmented as you try to support different operating systems.
A mobile website forms part of your normal website and therefore can contribute to your SEO.
It's easy to see how people are using your mobile website through your normal web analytics.
Your web developer should be able to make your mobile version become a seamless part of your existing site by automatically detecting the type of device your delegate is using to access the site and delivering a version that suits their needs, whether this be a basic version, a smartphone version, a tablet version or a traditional desktop view. This means that whatever your delegates are using, they can go to one place and get the same features.
There's no need for delegates to download anything — they'll have access straight away, without having to find the appropriate app, wait for it to download then configure it before they can use it.
HTML 5 now offers features that can help make websites more app-like. This includes the functionality to offer location-based services and non-Flash video, which is an important offering for those wanting to view your site on an Apple device.
You only have to promote one thing: Your event website. You don't have to spend time and valuable marketing space promoting a range of apps.
Cons:
It's harder to develop good mobile websites. There are W3C standards advising best practice, but the variety of screen sizes and resolutions can make it difficult to design something that will look good on all devices.
It's harder to guarantee the appearance, and therefore the experience that your delegates will have, due to the huge number of potential handsets, all of which will render the appearance of the site in slightly different ways. This makes testing more challenging. A good designer and a clean, simple design should help minimize this pain.
HTML 5 is not yet universally adopted by all browsers, so if you go down this route you may encounter some delegates who can't access all of the features of the site. However, HTML 5 is gaining momentum and most modern browsers are already supporting it to some extent.
You can't use the full functionality of the device from a website, so you won't be able to make use of all of the features that would be available to you if you went down the dedicated native app route, such as the phone's camera and accelerometer.
Conclusions
So which is the better option for events? The answer, as with so many things, is "it depends." If you're looking to incorporate mobile into your event, it's worth exploring both options to establish which option offers the opportunities that you want to deliver to your delegates. Ask yourself: "Why do you want to offer a mobile access point to your event in the first place? What do you want to let your delegates do?" The answers should help you to determine whether an app is right for you, or if a more mobile-friendly website will achieve your intentions.