| Updated on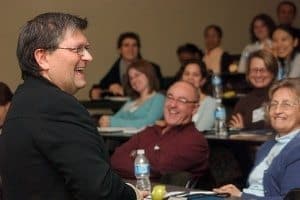 One of the reasons you spend the money on a professional speaker is so you won't have to worry about that part of your event. After all, you have enough to worry about with the hotel, the AV, the food service, the florist, and volcanoes in Iceland messing up travel plans.
Professional speakers understand that our purpose in life is to make your life as simple and easy as possible, and our highest priority is to make you look good. But you can significantly improve your event by helping your speakers help you, and it's not terribly difficult or time-consuming.  One very important way is to:
Tell your speaker where they are in the overall flow of the event!
Just to give you an example: I recently appeared at a truly fabulous event. The planner did a top-notch job. This hotel was nothing short of stunning, and the food and the receptions were all delightful. I was told that I would be speaking at 4 pm. Great. Everything seemed to be perfectly under control. What I didn't know was that the attendees were going to be up very late the night before at a spectacular welcoming reception, and the nonstop "educational" presentations started at 7 am the next day. So, between the previous day's air travel, the collective jet lag, the late-night carousing with an open bar, and all the presenters before me being dry-as-dust technical PowerPoint presentations, well, when I got up on stage in the late afternoon it became terribly apparent to me that this audience was on its last legs. They were great people, but they were just worn out.
I won't say it threw me, but I will say it was somewhat unexpected, and I had to adjust my presentation and comic timing considerably in response to an extremely low level of initial audience energy. I do a lot of humor in my presentations and I had to work hard and fast to warm up this audience. Had I been more aware of the big picture of the audience's overall event experience, it would have helped me to make my show that much better. (Sometimes one can even do comedy about the goings on earlier in the day, but only if someone tells me about it.)
Audiences vary
Some audiences have just been put to sleep by a relatively dull presentation.  Or, if the schedule has fallen behind, they might be eager to leave. Some are old friends who are eager to get to the party and socialize. Sometimes at 8 am they're wide awake and attentive, other times they have been up all night on a group tour to see the local fireflies, so they're barely awake.
What the audience has experienced in the previous one-to-twelve hours has a huge impact on how one should approach them. This may not matter so much to someone who is giving a technical lecture on hematology, but for a speaker who is there to be entertaining, well, I'm always grateful to know as much as I can about the audience, including their mood. Did the crowd have access to an open bar for an hour before the show? Or am I the one thing keeping them from it? If the latter, you can bet the Q&A will be brief. Audience engagement is everything, so it's very helpful to know if there's some unusual circumstance affecting the crowd.
As the event planner, you can foresee the rise and fall of audience energy, and letting your speaker in on the secret will make them that much better prepared to come out and do a fabulous job for you.