| Updated on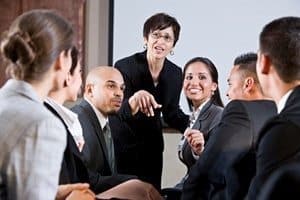 Planning a flawless training seminar requires advance planning, clear goals, focus, and creativity. You'll know your seminar was a success if, in the end, your participants feel that overall the event was relevant and productive.
People go to training seminars to learn new skills that they believe are worth paying for. Plus, people have collateral benefits in mind, too — the chance to share knowledge and ideas with co-participants and to expand their personal networks.
A training seminar should include lectures, small group activities, brainstorming, and problem-solving, among other aspects. The challenge for the event planner is to put all these elements together with maximum impact.
Here are 12 tips on how to make your next training seminar flawless:
1.  Clearly establish your goal. Know what you want to achieve. Do you want to build leadership skills? Would you like to show participants how to enhance creativity? Do you seek to empower and inspire participants? Are you holding the seminar for team building?
2.  Plan in advance. Give yourself at least six months for planning. You need to determine things such as seminar content, speakers, target market, venue, pricing, marketing, scheduling and incentives.
3.  List your requirements. Your requirements will be based on your goal. What equipment will be needed? What is a suitable venue (bearing in mind your target market)? When will you schedule the seminar? How much will your investment be, and how much will you charge participants? These are just some of the questions you need to ask yourself in advance.
Bonus: You need to establish a break-even point, which tells you when you have enough participants to cover all expenses. Anything past that point is profit. This will help with marketing your seminar as well.
4.  Plan the agenda. You want the seminar content to benefit participants from start to finish. With your goal in mind, list the main points of your content. Then break down general points to specific details. Plan where you'll fit in small group discussions and activities. Timing and pacing of each activity is important, as well as participant engagement.
5.  Schedule your training event. Scheduling the event will call for a lot of coordination, especially with the venue. Also, you want to make sure that your schedule doesn't conflict with other seminars on the same day within the area, at least in the same market/industry.
6.  Reserve your venue. Now that you have a target number of participants and a scheduled date for the seminar, you can begin scheduling onsite inspections with venues. Ask about catering, accommodation, A/V and internet (if needed). Ask about facilities for small group activities. Also, inspect the bathrooms, electrical outlets, overall cleanliness and public accessibility. Once you've found the venue that meets all your requirements best and meets your target price, make a reservation.
7.  Market your event. Tap your list of customers, professional contacts and other prospects. Begin promoting in your seminar social media such as Facebook, LinkedIn and Twitter. Reach out to trade publications to help you get the word out. Also, consider sponsoring local groups and meetups that focus on the same industry or topic you will cover in your seminar.
Bonus: LinkedIn is great for professional development training seminars. Promote your event by using LinkedIn direct ads, list your event on LinkedIn, and tap into LinkedIn Groups that are relevant to your topic or industry. Offer their members a discount, because their members are your target market.
8.  Attendees' list. Your website should have a facility for registration. If not, look into online social media companies that permit registration and even collection of payment. Leave some open seats for last minute registrants.
9.  Get everyone involved. To make the seminar fun and memorable, you have to design it so that everyone has a role to play, rather than merely lecture and make them passive listeners. Plan small group exercises, and make sure that the members of each group are a mix of different people. For example, if three people came to the seminar together, put them in separate groups.
10.  Plan how you'll get each group's feedback. This seems to be a small detail, but how you do this can make a difference. Will a member from each group read out the group's presentation? Or will the entire group do the presentation together? Also, allow a time for the other groups to ask questions of each group's presentation.
11.  Have fun group exercises. These are great icebreakers, and they can help to get a group relaxed and build up their personal involvement.
12.  Follow up. You need feedback to see where you were most effective, and where you need the most improvement in terms of your training seminar. Create a questionnaire for your participants to fill out at the end of the seminar. Discuss the feedback with your team afterwards.
Do you have any tips for planning a flawless training seminar? Share in the comments, please.
Photo from iStockPhoto