| Updated on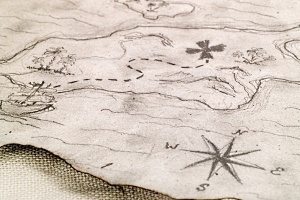 Everyone's talking about QR codes at the moment, but what can you actually DO with them to create a sensation at your event?
QR codes are inherently functional things, with their origins in the manufacturing industry as a mechanism for tracking parts. However, that doesn't mean you can't use them creatively to enhance your event experience and generate a bit of fun.
If you're looking for something a bit different to get your delegates talking with your sponsors and exhibitors, a QR code treasure hunt may be just what you need…
The QR Code Basics:

What is a QR code?
A QR (or quick response) code is a type of barcode that can reveal all sorts of things, including direct links to websites, text and other online materials.
How do you read a QR code?
You can read a QR code using your smartphone. Simply search for "QR Code Reader" in your app store. Once you have a QR code reader installed on your device, open it up and point your phone's camera at the QR code. The app will reveal whatever is encoded.
Why are QR codes useful?
QR codes can be used for all sorts of purposes. At events, they might be used to speed up ticketing, add extra information to ID badges, or encourage smartphone users to check out a particular website when they see a poster or other literature. Typing a long web address into a smartphone can be difficult and time consuming. Scanning a QR code will take you straight to the website, with no typing. Simple. QR codes are increasingly used in billboards and other outside advertising for this very reason.
How do you generate a QR code?
There are plenty of free QR code generators out there on the web. I've been using Kaywa but a quick search will bring up countless others. You simply enter the web address or the text you want the reader to see, and hit a button to generate the code. The QR code is just an image, so you can copy and paste it into any of your promotional materials or signage, or print it out, as required.
Become a Buccaneer
Now you know the basics, you're ready to plan something swashbuckling for your event. Here are the three basic steps to constructing your own unique QR code treasure hunt:
1. Choose your treasure
Find a sponsor who wants to enter into the fun. They could donate a single prize or fund free drinks at the event's reception party in exchange for "doubloons" that participants gather along the way.
2. Choose your challenges
You might decide to challenge your delegate's knowledge of the conference theme, or you might want them to gather information from stalls on the trade show floor to solve a bigger puzzle.
3. QR away!
Start creating QR codes for each of your challenges, and distribute them around the conference venue for players to find and scan. The codes could reveal text detailing the question or challenge, or direct players to a page on your event website where they can find the question and submit their answer.
Sample Formats
Idea One:
Delegates arrive at your event and either self-organize into small teams or are allocated into teams. Each team must include at least one person with a smartphone.
Teams explore the venue, scanning any QR codes they encounter along the way.
The QR codes reveal challenges requiring the teams to find out specific information. Challenges could include finding out a particular statistic from an exhibitor, who may hand out a token in exchange (along with their business card!). This token could be used to redeem a free drink at the event bar, or as a measure of success at the end of the game, i.e. the team with the most tokens wins.
Idea Two:
Provide teams with a map of the venue and a pen.
Use QR codes to reveal clues to find the next code in the sequence, until they finally reach the site of the hidden "treasure."
Create QR codes for each of your clues. Each should provide a clue to the location of the next code, which may be held by an exhibition stand holder or a sponsor. You can get quite clever with this to get the teams talking with key people at your event. If you are keen on cryptic crosswords, you'll enjoy planning this out.
Teams should mark the locations of each of the QR codes on the map to prove they've found each clue.
The final QR code should lead to the prize, or an envelope containing details of the prize. The team will need to work out where this is hidden or who might be holding it.
Benefits
A QR code treasure hunt can be used as a light-hearted way to get delegates mixing and working in teams, or a way to encourage greater exploration of the venue and interaction with exhibitors. However, it will require careful and creative planning to make it a success — just like every other aspect of event planning!
If you try this out we would love to hear your experiences, so please leave a comment below telling us what you did and how well it all went.