| Updated on
Measuring social media activities is an important part of any marketing strategy. If you can't measure it, you don't know if it works. Many people in the past relied on external services to put a number on their social media activities, which included URL shortening services (Hootsuite, Bit.ly, etc.) and sharing plugins (AddThis).
Twitter has been one of the social media platforms that didn't offer any analytics to its users, and even Google Analytics has a hard time tracking the traffic that comes from Twitter.
"Well, the only traffic you'll see coming from Twitter is traffic that comes through Twitter's web interface," Joost de Valk, creator of popular WordPress SEO and Google Analytics for WordPress plugins, writes on his blog. "And most people I know don't use the web interface, they use desktop and/or phone clients. Because these clients aren't browsers, they won't pass along a referrer, and thus register as 'direct traffic'."
He goes on to offer a solution to fix that problem, but it uses a URL shortening service and still is not native to Twitter.
Twitter Web Analytics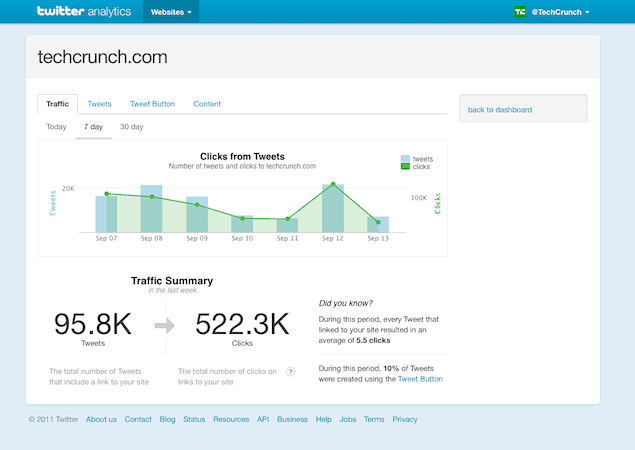 Twitter has announced on
their blog
the upcoming release of web analytics for a select number of partners, and later, to the website owners, "Today we're announcing Twitter Web Analytics, a tool that helps website owners understand how much traffic they receive from Twitter and the effectiveness of Twitter integrations on their sites." This is the direct result of Twitter's acquisition of
BackType
this past July, which tracked social media mentions among other things.Now, webmasters will be able to see exactly what Twitter does to their traffic, how effective it is. The screenshot shows that the analytics will show traffic, tweets, tweet button, and content. Not sure what content tab will show, but if it's anything like Google Analytics, it will show analytics for individual content/links.
One feature that's missing, for now, is the effectiveness of the Twitter's "follow" button. Knowing if it is effective or not, would help webmasters make the decision of keeping it or getting rid of it. But for now, the analytics don't have that feature.
What does it really mean for event planners?
Once it becomes public, you will be able to claim your website and begin to measure and understand Twitter's effectiveness. For your blog and your event website, which you should be tracking already one way or another. This is just an additional, more precise tool to measure Twitter.
According to the blog post, you will be able to
Understand how much your website content is being shared across the Twitter network
See the amount of traffic Twitter sends to your site
Measure the effectiveness of your Tweet Button integration
Now that data will be available to you. Review it, analyze it, and use it to optimize your Twitter strategy for maximum effect, your event depends on it.
Will you begin using Twitter's new web analytics once it becomes available to the public? What services do you currently use to measure Twitter's effectiveness? Share in the comments section.